http://tamesky.com/2015/09/ What consumes you?
cheap Lyrica australia I was asked this question during the first night of our men's retreat to Sequoia National Park. If I had to be honest with myself, the thing that has continued to consume me after I've become Christian is pride. It's plagued my life since childhood, and I still struggle with it today. I've only recently begun learning how to fight it.
bromhexine equivalent in usa I'd always been the top of my class. I prided myself on doing well academically through grade school and into college. Because I played tons of videogames as a kid, I was also good technically in terms of hand-eye coordination. As a third year medical student, I had the opportunity to play on a laparoscopic simulation machine at Cedars Sinai. I was scoring at the level of the OBGYN chief residents who were 6 years my senior. I was good, and I knew it.
I spent years trying to make sure that everyone knew how good I was or how good I could be. I flaunted my abilities where I could to try to impress people in and out of work. My evaluations often reflected that I was "cocky" and "came off arrogant." I didn't understand why. Wasn't cockiness overestimating what you're capable of? I thought that I was merely being realistic about my abilities.
I didn't learn what humility really meant until I became a Christian. I thought it meant thinking less of yourself, putting yourself down. I tried putting myself down to counteract all the times I bragged about myself. Needless to say, it doesn't really work like that. It wasn't until I read Purpose Driven Life that I truly understood: humility is not thinking less of yourself, it's thinking of yourself less.
"Humility is not thinking less of yourself, it's thinking of yourself less."
I'm now trying daily to think of myself less. Yes, it's okay to be proud of the work you do, but humility involves accepting praise graciously and then going back to working hard or instead, focusing on the accomplishments of others. You build them up instead of trying to build yourself up. That's the only way everyone wins. If you continue to only build yourself up, or worse, put others down to make yourself look good, there will be no one there to celebrate with you when you've finished.
I still struggle with this daily. I am consumed by thoughts of wanting to prove that I can be better than everyone around me. Thoughts of trying to out-do my co-residents. Even thoughts of trying to surpass my attendings. It's even clouded my clinical judgment from time to time.
What I've come to realize is that we're all on the same team. People may say it all the time, but their actions and thoughts reflect differently. Embracing humility begins with understanding that there's enough praise and credit to go around for everyone. You do your part to work hard, but you also try to acknowledge and point out the accomplishments of others. You build them up without letting jealousy or inferiority take away from truly celebrating their achievements. In time, you'll find that they will do the same for you.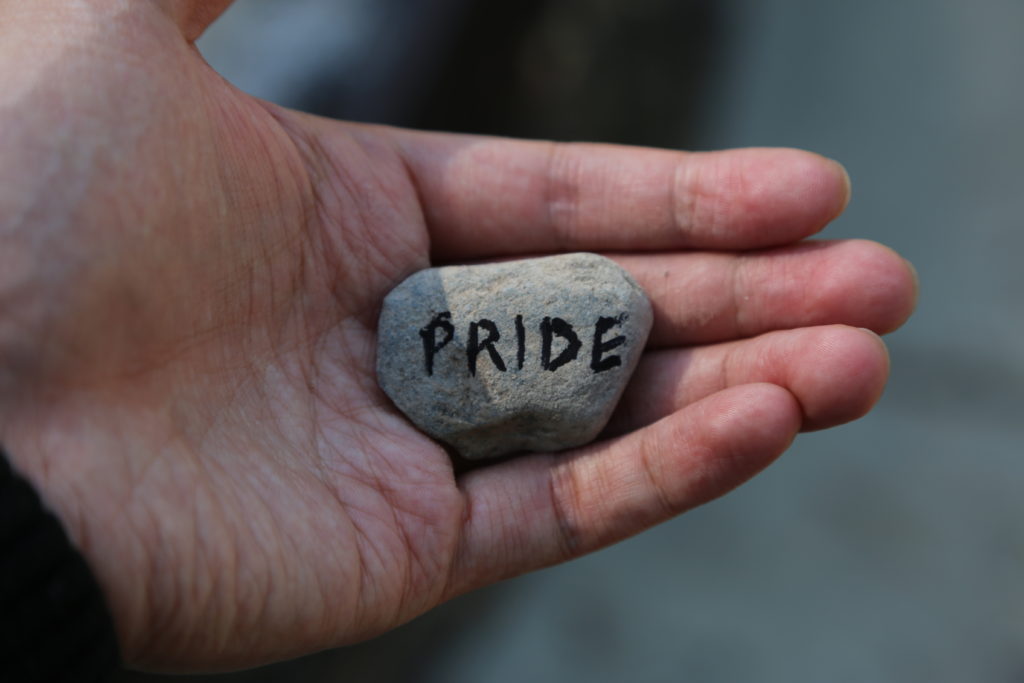 (Throwing my pride into the lake.)
Even if they don't, just know that God is watching you, and He is always proud of your efforts. No sacrifice or act of kindness goes unnoticed, no matter how small. Isn't doing good work for Him more important than only fishing for compliments from other people? Imperfect, judgmental, biased humans. You will be consumed with trying to impress them for the rest of your life, and you'll never impress them all. Jesus was perfect, and even he couldn't do it.
So I'm giving up. I'm not trying to build myself up in the eyes of everyone else anymore. Pride has held me for too long, and it's about time I started focusing on building up everyone else in my life.
~6/2/2017